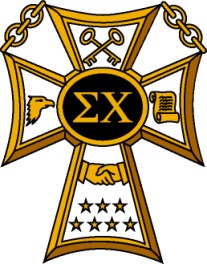 Homecoming 2012–CANCELLED
Make Sigma Chi part of your Homecoming this fall!
When: Friday October 5, 2012
Where: Scioto Country Club 6:00-9:00 PM
2196 Riverside Drive, Columbus, OH 43221
Details: This will be a STAG event.  There will be a cash bar and light hors d'oeuvres.  The format will be a quick annual meeting, a presentation on the improvements at the Chapter House, followed by 50 year Sigs presentation.
If you cannot make the event, please join us immediately afterward at the Chapter house at 260 E 15th Ave to take a look at all the improvements.  The Undergraduate Brothers will be hosting an event for Alumni with adult beverages and finger foods.
Cost: $45 and must be paid by 9/21/12, please consider adding $25 extra to help sponsor an undergraduate member.
RSVP to Mark Dornfeld  at dornfeld@prodigy.net or via phone 614-654-4970.  Please send checks and make them payable to
"Alpha Gamma of Sigma Chi, Inc:
c/o Mark Dornfeld
13544 Church View Dr
Pickerington, OH 43147