About the Summer 2012 renovations:
Thanks go out to Jim Smiley and James Howe for all the hard work on the major renovation project that was completed at 260 this past summer. In this email we will give you a quick run down and some photos.  We will be putting together a more comprehensive look and presentation at the Homecoming Event.
Over the course of 60 days, a devastating Derecho (which 260 survived) and one EXCESSIVE HEAT WAVE a very impressive, much needed upgrade was made to the Chapter House:
All original cast iron was removed from interior of house
All bathrooms were taken to studs and walls replace/rebuilt due to years of leaks. Updated finishes include corian counter tops and porcelain tile on floors & walls.
Built integrated dresser and closet system in all rooms.
All new light fixtures in rooms, kitchen, dining room and halls.
Painted all bedrooms and dining room.
Main sewer line into Summit St, back flow prevention valve, replaced sidewalk along Summit to 15th and entry sidewalk. Unexpected $28,000 !
Rebuilt the parking lot retaining wall and the drainage lines around the House, including the line under the volleyball court
Link to some great before and after shots
Needless to say, it was a busy summer at 260.  The total project cost is close to $150,000.  This could not have been completed without an extremely strong Undergraduate Chapter, who contributed over $10,000 to make this renovation a HUGE success.   Here is snapshot of the start of the amazing work.
New paint in basement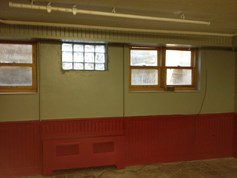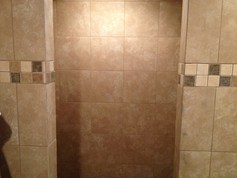 New marble and tile in Men's rooms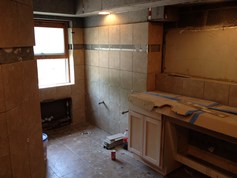 2nd floor men's room, ready for all new plumbing and new fixtures
Full gallery of all the renovations here
Links to video of the unexpected main sewer line upgrade
Another video of the situation here.